The Atelier OuVert is a workshop that uses aesthetic research methods to gain knowledge about landscapes, its components and its change. Aesthetic research is a method originating from art teaching. For this workshop I adapted the five phases of aesthetic research for the purpose of environmental education. Starting from one's own point of interest, the participants explore a subject or topic that might seem wide, but as their aesthetic research progresses they narrow it down. In a final presentation they highlight their own perspective on their subject by presenting their artistic output.
The workshop was held in December 2014 in cooperation with the Wildlife Conservation Society (WCS) and its Environmental Education Director Johnnah Ranariniaina. The workshop and its evaluation was part of my Art Teaching master-thesis at the Hochschule Luzern and was supported by Zoo Zurich.
Phase 1: Introduction and finding the research question
A group of 15 school kids (aged 13 to 17 years old) from different schools around Maroantsetra joined this three day workshop. We started of by an introduction game and got a tour through the MaMaBay Campus, which was formerly a fish farm. The former guard of the lot told us about how the landscape changed and was used before, so visions of the past could overlay the imagery of the present in our heads. The kids where keen to ask about tree species planted on the lot and rice production on the site. After the tour the kids would write key words of interest on little sheets and we would sort the together in different categories. Afterwards each kid could pick a topic that interests them the most and that they would conduct their aesthetic research on.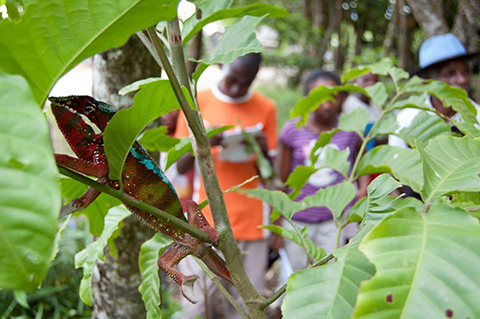 Phase 2: Introduction of research methods and research on site
In the second phase the kids first made their own research journal in which they could make notes of observations or collect field drawings. We made an introduction of observational drawing by drawing the fruits that we have bought for our fruit salad. We also playfully introduced the method of distinguishing research categories by sorting our dinner ingredients for example by color, size or material. In the evening we where setting up our tents and for dinner we were starting a fire to cook rice and bean-stew together.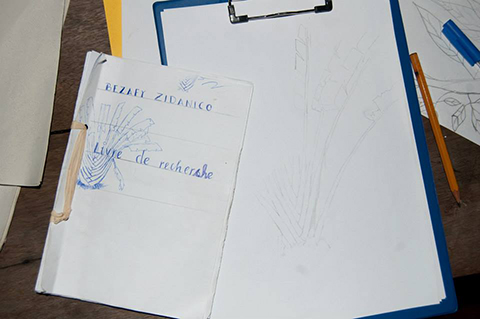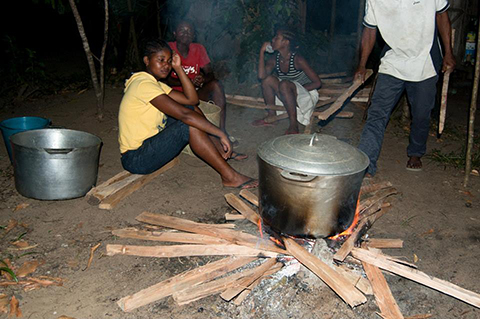 The next morning the kids still had time to conduct research on their filed of interest. They for example picked a mango-tree, a cinnamon-tree, the national plant ravenala or water as their research subject. Almost all of them started off by drawing main characteristics of their research subject in their research journal. Then they also started collecting samples of leaves, water or branches to further study the features of their subjects. In the end of this phase we made a feedback round where each of the students could present their research status and get feedback from the others.
Phase 3: Preparing material and poster for the presentation
In the preparation phase the kids review their collected material and sort it. During the research process a focal point might already have appeared or it can be stressed now during this phase. The kids are asked to think about their presentation display, which could be designing a poster, mounting all collected material on a wall or performing their creative output. All the material needed for the presentation where provided by the workshop team and individual feedback was given on their site of preparation.
Phase 4: Presentation
Our kids had the chance to present their findings in front of a big crowd consisting of members of the local youth environment clubs. It was a pleasure for me to witness how self confident the kids presented their research output and how they have become such experts about their chosen subjects just within two days. The variety of aesthetic and artistic results was astounding, some of them where for example a poster about the use of ravenala, a performance of a poem about the importance of water with a slideshow of photos taken about different aspects of water use, a rap praising the mango fruit and tree and the different ways of using the cinnamon tree, where we could all taste some extracted cinnamon tee.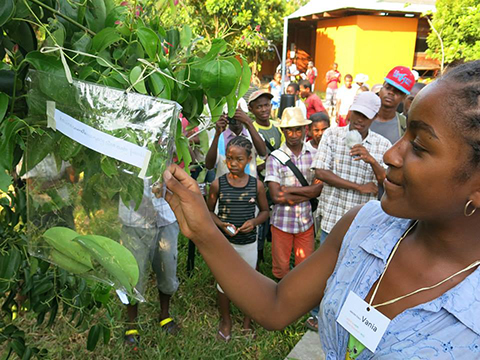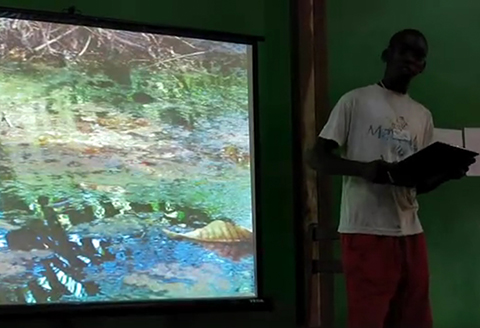 Poem about water:
"I'm going to talk about water
Which is quit real and important
Water is sacred, but in town it is expensive
Contrary in Maroantsetra, nobody sells it
Water makes green our nature
so we need to protect it
For sure different species live inside,
they are called aquatic and their life comes from Makira.
Despite the well known deforestation, aquatic disappear in a glance
Indeed with these big ship and ramikaoko.
So I tell you from now
Protect the water wherever you go
That's what we want you to know
You, who are alive until now"
Phase 5: Reflexion and feedback round
The final phase was a reflexion and feedback round where we could all share our experiences during the research, presentation and the workshop in general. Aesthetic research is a method that provokes phases of facing the unknown which can lead to confusion or lack of orientation. This is why it is important to include feedback rounds regularly throughout the process in order to keep motivation and curiosity alive.
At this point I would like to express my gratitude to the participating kids, WCS Maroantsetra, Johnnah Ranariniaina and Zoo Zurich for enabling me tho grow on this experience!