For my research work in Madagascar I had the intention to document my own process and impressions by drawing. At the same time I also wanted to try to use drawing as a method to find out about the perception of the environment of children. When I arrived in Maroantsetra and got to know some young ones, I provided them paper and pens and invited them to draw.
Some time later I handed out some more drawing-booklets which I made out of 5 sheets of copy paper and two staples. I wrote a small introduction about what they should be drawing. On one page  there was animals, on another their house and so on. Before I left Maroantsetra I asked for them back and was a bit disappointed that they barely filled a page. So when I came to Ambanizana and Ambodiforaha, I decided to not give any instructions at all, they should find their own point of interest.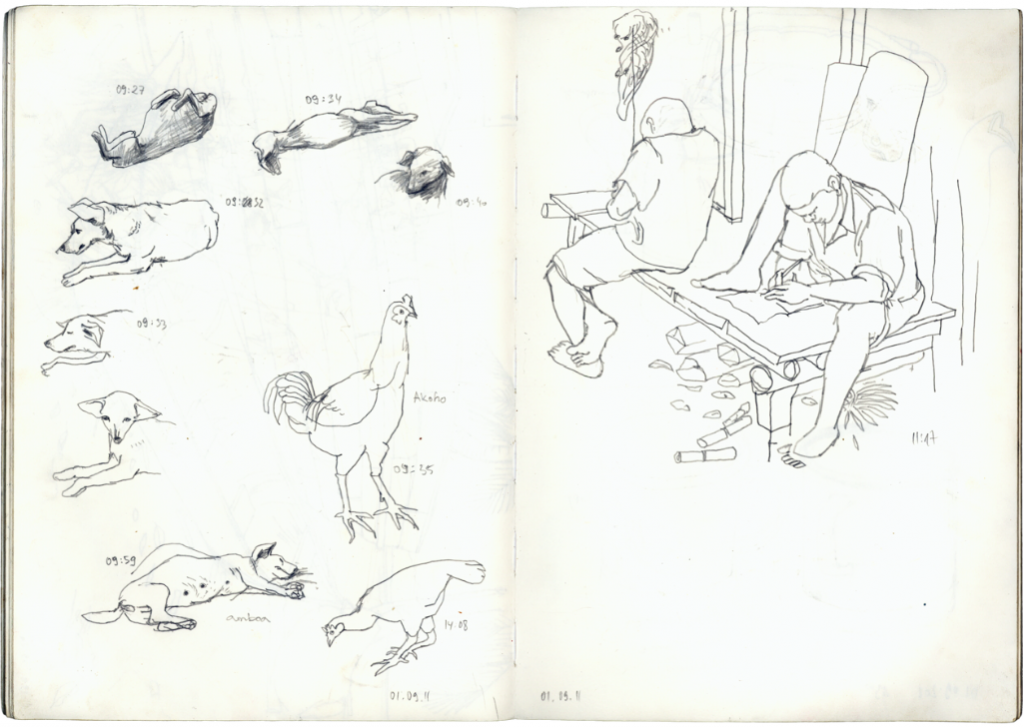 As I continued my journey with the destination Ambodiforaha by boat. I decided not to use the usual tourist boat (which is a speedboat) but the Malagasy wooden boats with two motors. One say it is way more dangerous than the speedboat, but one can not deny the fact that it is also way cheaper. The only thing is that it usually only goes until Ambanizana. In Madagascar you always have to prepare for unexpected situations. Two days later we headed towards Ambodiforaha. So while waiting for the boat to come, I started to hand out about 20 of the A5 drawing booklets and pens. First the kids where quite shy and did not want to take it. However, after a while they lost their shyness and we were drawing together
When I finally arrived in  Ambodiforaha I also handed out about 20 booklets and pens. Meanwhile the kids had the sketchbooklets at home and I started another project with them: the "Kepakepa ABIDY". (Read more about it in the subcategory "Kepakepa ABIDY")
Before I left the villages I tried to get back as many of these sketchbooklets as possible. I went trough the villages with my guide, some kids where recognizing me and proudly presenting the booklets. Afterwards I exchanged the booklets with bonbons.
We where waiting for some time in the center of the village until the news was spread – and really, I got almost all the booklets back, and filled with amazing drawings. Several people reported me, that it was such a pleasure for the kids to draw, that they carried their booklet all the time with them. The condition and how dirty the books had become was proof of that.
The first step of using this sketchbooklets a a source material for further projects, was to extract drawings with carbon paper. I tried collect different aspects of the Malagasy (read more about it in the subcategory "Sketchstamps GASY").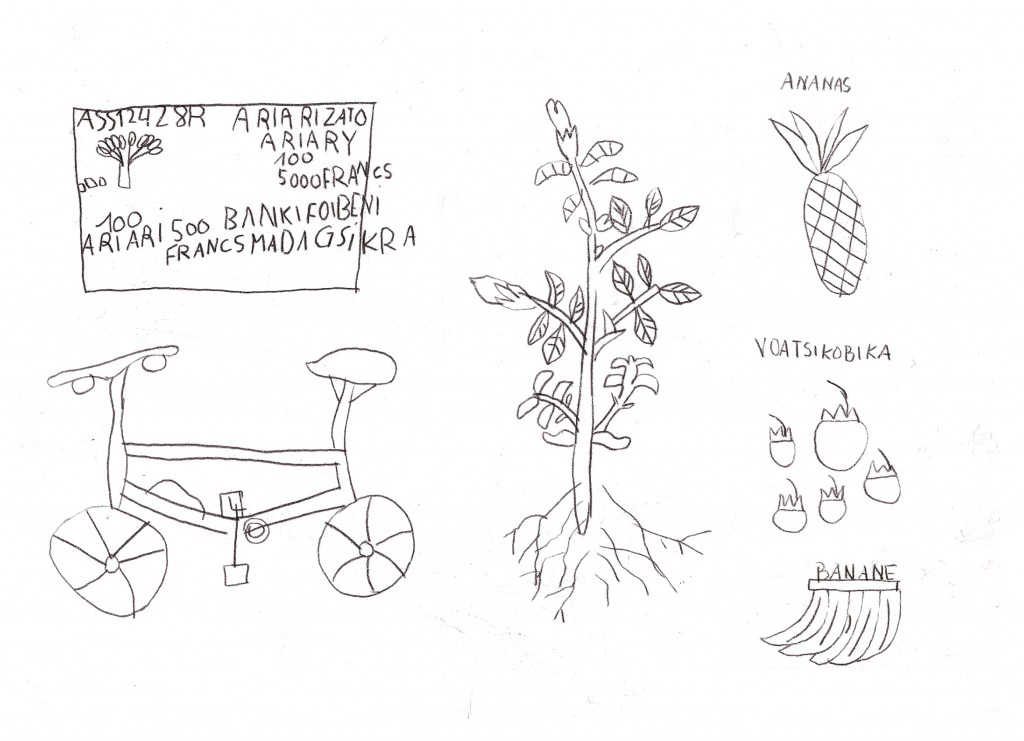 In the middle of October, when I went back to Antananarivo, I still had some appointments. I was visiting the team of the CREE at the "ENS" (Ecôle National Superieur). I met with them in the beginning of my trip to present my project's intention. I wanted to present my results before my departure. They really liked the sketchbooklets and the stamps that I made out of the children drawings. They where quite surprised by the uncommon approach and method of drawing in my research process. They even wanted to adapt them for further projects.